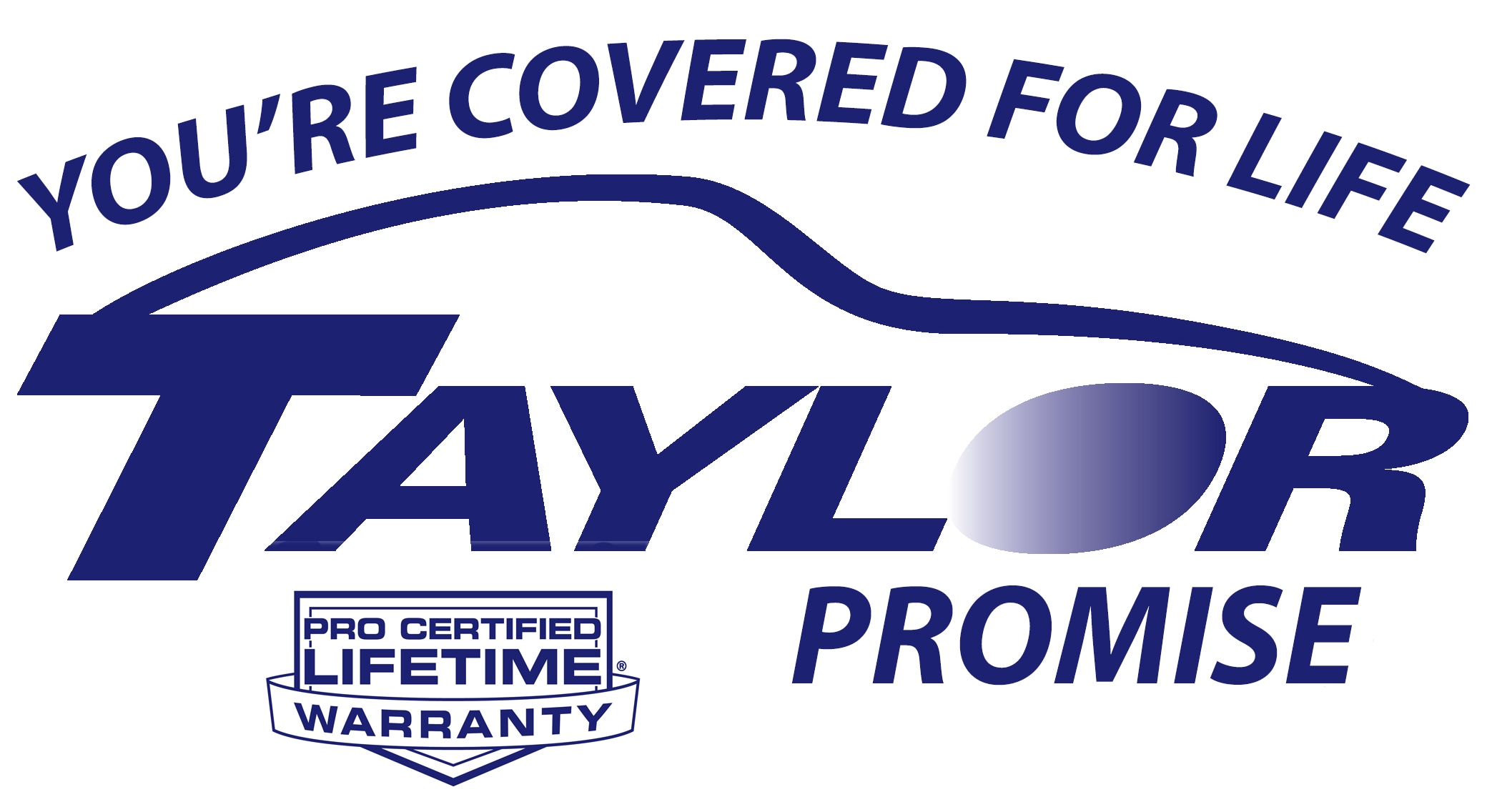 Check out the Taylor Promise, "You're Covered for Life!".  
The Taylor Promise is our Exclusive, No-Nonsense Lifetime Powertrain Warranty.  
When you buy a qualifying new or used vehicle from from Taylor Automotive or Taylor Ford-Lincoln, you will receive a complimentary LIFETIME POWERTRAIN warranty. We are the only dealership in the area who offers this caliber of warranty on all qualifying new and used vehicles.
Frequently asked questions regarding this amazing Complimentary LIFETIME WARRANTY:
Question: Do I have to service my new car at Taylor Automotive or Taylor Ford-Lincoln for this warranty to be valid?
Answer: No, you do not.  While most customers find it convenient to have us do their service and retain their records, you can service your vehicle wherever you'd like.
Question: What vehicles qualify for the Taylor Promise?
Answer: All non-commercial new and used vehicles, current plus 5 model years or newer, and under 80k miles on the odometer qualify (with the exception of high-end vehicles Cadillac, BMW, Mercedes, and some other luxury cars)
Question: Will the warranty be valid if I service my vehicle at my local mechanic (Jiffy Lube, Billy Bob Auto Repair)?
Answer: Yes, as long as the work is performed by an ASE certified mechanic, the Taylor Promise will cover the repair.
Question: Is there any special maintenance required for this warranty to stay valid?
Answer: Unlike most warranties, the Taylor Promise will never be voided for lack of maintenance.  While a claim may be restricted or denied due to neglect, it is only required you maintain your vehicle at the manufacturer's specified intervals in order to avoid any of these issues.
Question: Can I upgrade the warranty?
Answer: Yes!  The Taylor Promise gives you the exclusive opportunity to upgrade to a "Lifetime Preferred Wrap" which covers thousands of parts, including computers, air conditioners, sensors, and more, for Unlimited Time and Unlimited Miles.
Question: Can I buy the warranty or wrap at a later time?
Answer: No, unfortunately this warranty is provided for free at the time of purchase.
Question: Can I elect to NOT receive this warranty and receive a better price?
Answer: No, the warranty is complimentary.
Question: Can I transfer this warranty to another car?
Answer: No, the warranty stays with the vehicle and the original buyer. The warranty does not transfer to the second owner.
The Taylor Promise Lifetime Powertrain Warranty covers the following aspects of your vehicle:
Engine: Cylinder block, cylinder head(s), rotor housing and their internal parts, intake manifold, exhaust manifold(s), timing gears, timing chain(s), or belt(s), timing chain or belt tensioner(s) and timing chain or belt cover, value cover(s), flywheel or flexplate, ring gear, harmonic balancer, oil pump, vacuum pump, water pump, oil pan, turbocharger housing(s), and their internal parts, waste gate, intercooler, engine mounts, and EGR valve.
Transmission/Transfer Case/All-Wheel Drive Assembly: Transmission case, transaxle case, transfer case and their internal parts, torque converter, vacuum modulator, cooler and metal cooler lines, transmission mounts, slave cylinder and master cylinder of a manual transmission clutch assembly.
Drivetrain Assembly: Final drive and axle housing(s) and their internal parts, axle shafts and bearings, universal and constant velocity joints, drive shaft(s), center bearings and drive shaft yokes, four-wheel-drive engagement, actuator/motor, traction control linkage, solenoids, control processor and sensors, and 4×4 locking hub. Front-wheel drive and rear-wheel drive.